This post will be a little different from my other ones. I want to talk for a moment about audiobooks.
But first…
In little blips and blurbs, I've talked about making the move from Illinois to Oklahoma. We heard about the job opportunities in Oklahoma City (OKC), and knowing that we have family in the area, we decided to make the move. OK, really, it was just so that we could enjoy winters with less snow than what we were used to in Illinois. I know some places get a lot more snow than what we got, like South Dakota, where my sister and her family lived for a few years. I think it would be fun to experience 12 feet of snow once in my life, but never again. Honestly, I used to like snow when I was a kid. I loved to go sledding and build forts in the snow, but now, it's a bother. It gets dirty, it's wet, it's cold, it ruins my shoes, it's slippery, and I can't afford a snowmobile, and I'm too old to go skiing or snowboarding without injuring myself. So, what is there to like about snow? It's pretty when it's falling from the sky, especially in slo-mo, but once it hits the ground, it's game over.
So, I moved my family out to OKC and started looking for a job. My employer in Illinois was very understanding and supportive of this decision, so they allowed me to stay on and continue working while I searched for my next opportunity. How many employers do you think would do that?
I'm happy to report that I found a job with an aerospace company in OKC. It's like a dream come true for me! Working in the aerospace industry is something I have wanted to do since I was in high school. I once thought that I would become an aeronautical engineer and go on to work at JPL and design rockets or spacecraft. Although I did not become an engineer, this new opportunity allows me to work with people who are supporting programs that are very important to the future of our country. Perhaps someday, I will even support those who are designing rockets and spacecraft…
Anyway, on to the main point. Audiobooks. Since I moved the family out to OKC at the beginning of July and it wasn't until the beginning of November that I got to make the final move, I had a few opportunities to travel between IL and OK. What better way is there to make a road trip than with a good audiobook to listen to?
Some of you hardcore readers might have it in your head that listening to an audiobook isn't the same as or as good as reading the same book with your eyes. I know you're out there because that used to be me. Here are a few reasons I had to change my tune:
Audiobooks are:
help slower readers (like me) get through a book in less time
are portable – you can enjoy a book, as the driver, on a long journey
FREE – when you use services like the Libby app that connect you to the audiobooks being offered by your local library system
help the listener to practice auditory processing – especially important for those (like me) that do not process auditory information very well
just plain fun to listen to – particularly those that are professionally produced
Those are just a few of the benefits of audibooks that I could think of off the top of my head. I'm certain there are more.
What about you? What are your thoughts on audiobooks? I'd be interested to hear your point of view in the comments down below.
Below, you will find my thoughts on three audiobooks that I have listened to recently: Airborn by Kenneth Oppel and Aurora Rising and Illuminae, both by Amie Kaufman and Jay Kristoff. I've listed them here in the order in which I listened to them, but coincidentally, it also the order in which I would rate them, with Airborn being my favorite and Illuminae being my least favorite.
---
Airborn was an unexpected delight! It turns out that this story takes place on an alternate Earth that is borderline steampunk in nature. I don't think everyone runs around wearing goggles, knee-high boots, and trench coats with one thousand buckles, but they have airships. I love airships!
Airborn is about a boy, Matt Cruse, who lives on an airship. His father used to be a member of the ship's crew, but he has since passed away. His mother and sister live in a small apartment back at "home," while Matt earns money as a cabin boy. Since young Matt is now the man of the house, he works hard to send money back to his mother and sister.
During a voyage, Matt's airship is attacked by pirates, yes air pirates, just like in Disney's Tailspin or Treasure Planet! Except these pirates mean business! The attack leaves the airship damaged and forces it to land on an uncharted island, making rescue seem unlikely. Of course, there's a girl on board, and she and Matt make a startling discovery on the island – something that if they ever make it home will change the course of their lives forever.
That's about all I want to tell you about this story because I want you to go find the audiobook and listen to it immediately (I found it on Libby: https://apps.apple.com/us/app/libby-b…)! Look for the version that says it is read by David Kelly and the Full Cast Family. This edition of the story was so much fun to listen to! The full cast did such a great job! It was just like listening to a radio drama. The story is a grand adventure, with a hint of romance, and did I mention air pirates?!
I can safely say that this story can be enjoyed by a wide range of ages. I don't believe you will find much of anything in the story that is objectionable. Oh, and this is book one in a three-book series, so the adventure doesn't stop here.
OK, bookmark this page, grab your phone/tablet, pull up Libby and borrow this book now. No really, it's OK. I'll wait right here while you do that.
P.S. I just discovered that the library system here in Oklahoma City has books 2 and 3 available on audiobook (also with the full cast)!
P.S.S. By the time I posted this article, I finished listening to book 2 and was listening to book 3!
---
Aurora Rising by Amie Kaufman and Jay Kristoff
Aurora Jie-Lin O'Malley is a teenager. Aurora Jie-Lin O'Malley is over two hundred years old.
I know! I, too, was intrigued! I needed a story to listen to when I made my final move from Illinois to Oklahoma, so I landed on Aurora Rising by Amie Kaufman and Jay Kristoff.
The year is now 2380, and the Aurora Academy has just graduated another batch of fine cadets who are ready to take on any challenge the galaxy can throw at them. Except for Ty, who makes an incredible discovery while very unwisely taking a spacecraft out for a little joy-ride just before the draft is due to begin. You see, Ty was an outstanding student, and is set to command his own team in the Aurora Legion, a group of space-police that helps to keep their section of the galaxy safe. The problem is, Ty decided to take his joy-ride just hours before the draft, the yearly event where new Legion commanders, like Ty, get to draft the members of their team. Ty is going to miss the draft, and will most likely get stuck with all of the leftovers – the least desireable team members – the ones no one else wanted. Spoiler alert! That's exactly what happens. But you know this kind of story. Ty gets stuck with all of the underdogs, but together they find that they kind of, sort of, make a good team.
Ty and his team go on an adventure, make terrible discoveries, and learn how to function as a team of dysfunctional rejects.
At first, I was excited to see that a full cast had read this book. At first. I was a little disappointed, however, to learn that the method of recording by this full cast was so much different from what I had experienced with other books (such as Airorn by Kenneth Oppel). The version that I listened to had different people reading the parts of each character, but as each narrator read the chapter that was from their character's point of view, that same narrator also read the parts of every other character. With seven main characters, that means seven narrators, which means seven different voices reading the same characters. It wasn't the best execution of a full-cast reading. But, in spite of that, I still really enjoyed this story.
I love science-fiction, so it didn't take much to convince me to listen to this story. With each chapter telling a portion of the story from a different character's perspective, there are plenty of opportunities to learn about the characters and how they think.
There are a few times in the story where the romance between a couple of the characters is discussed, but nothing explicit. I would consider this story safe for my 12-year-old. It is full of action that keeps you wanting to know more.
---
Illuminae by Amie Kaufman and Jay Kristoff
I don't have a lot to say about Illuminae by Amie Kaufman and Jay Kristoff, other than I recommend that you avoid this one.
I mean, the story is interesting… It's about a boy and a girl who lives in an illegal mining colony on a world far from the rest of humanity. Ezra and Kady have just broken up. I mean really, really broken up, with screaming and yelling – the works. The next day, their colony is attacked by a battleship owned by a competitor to the company that established their colony. A terrible battle ensues, and many lose their lives. But, it would be a really short story if Ezra and Kady didn't survive! They manage to make it off-planet but get separated in the process. Now, the ships they are on are being chased by the same battleship that attacked the colony.
The writing style is interesting. Instead of the usual dialog and narration, the story is the culmination of a series of documents, such as emails, articles, ship logs, and other forms of documentation. As each document is strung together, the story unfolds. I haven't seen it done quite like this before.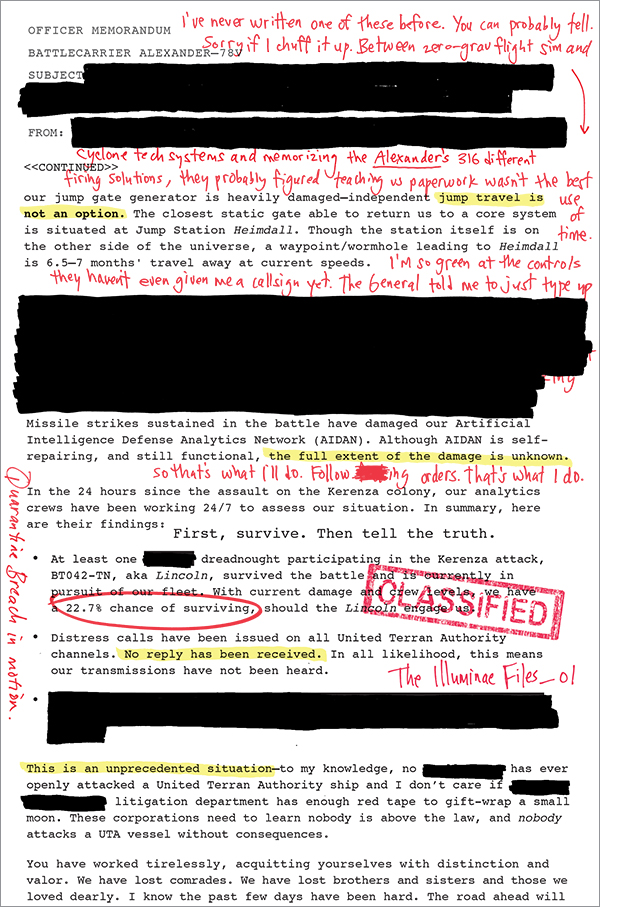 I want to like this story. But, here it is. You could sense that there was a big "BUT" coming. The story is overwhelmingly filled with curse words, the favorite of which seems to be the F-word. Is that really necessary? I can answer that for you. No. It's not. Do you know how I said the book was a string of documents? Well, the curse words are redacted in the book, but in the audiobook book version, the words are hardly redacted. When you hear the first letter of the word and the last syllable of the word, your brain easily fills in the blanks.
Do yourself a favor and avoid this series – there is so much more out there, you won't be missing anything by moving on.
---
Stay up-to-date with my nonsense by subscribing to my email list. By subscribing, you'll receive email notifications when a new post is available. You can unsubscribe at any time (but I hope you don't).
---
It's March, and Spring is just around the corner.
In the Northern Hemisphere, it's time to get the garden started, and the bicycle tires aired up. The gloom of winter will soon pass, and the sun will be our companion. What is one thing you will do this year to make this your best summer yet? Share your ideas in the comments.
The Nutcracker Trilogy
I will continue to shamelessly promote these books because I'm so excited about being a small part of Drosselmeyer's journey. If you're new here, let me encourage you to check out The Nutcracker Trilogy by Paul Thompson. All three books are available in print and as e-books. Books one and two are available as audiobooks, narrated by yours truly. Click the links below to explore.
Oh, and it doesn't have to be Christmas for you to enjoy these stories (just like it doesn't have to be Christmas to enjoy Harry Potter).
Apple Books / Apple Audiobooks / Amazon / Audible
Want to see what else I'm up to?
If something you've read here on my website has piqued your interest, click the link below to see all the places you can find me. Granted, I take every opportunity to point people to this site, but I encourage you to explore my links.
Photo of "audio" book by Findaway Voices on Unsplash